MODUflex

"Anesthesia Transport Table"
New product from Dispomed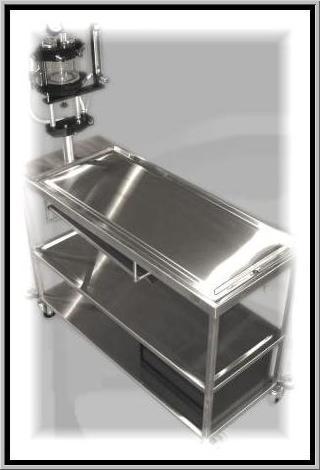 The Moduflex Mobile Anesthesia table, is the ideal transport table for moving small animals from your treatment area to X-Ray, MRI or Surgery, when maintaining Anesthesia is important.
Indeed when equipped with our Compact Anesthesia Machine, you can use this fully self contained unit to maintain your patients under full anesthesia during transport.
With a capacity of 600 lbs, Our Anesthesia Mobile Table will accommodate most animals in the veterinary environment.
Completely manufactured of Stainless Steel our table is easy to move, with large locking castors (4") and bumper rollers to protect your walls and equipment.
Standard features:
Available with or without Anesthesia machine
Dual horizontal "E" cylinder support under top shelf of table.
Anesthesia machine support with internal hose routing, direct to regulator.
Large castors 4" all equipped with locks.
Built in bumper wheels all 4 corners.
Dimensions 51"L x 20" W x 37" Height (with Compact Anesthesia Machine height is 64" to top of manometer) Weight 85 Lbs, Capacity 600 Lbs.
2 Large lower shelves
Liquid drain and pail hook.
All stainless steel
Optional accessories
Anesthesia machine Moduflex Compact
Anesthesia machine Moduflex Access II
MRI Compatible Kit
Drawer assembly (not MRI compatible)
Gas Regulators MRI Compatible or Non MRI compatible